Classrooms & Homeschool
Storytelling and hands-on STEAM projects for the classroom, home, and beyond.
Womple Studios works with educators of all stripes to provide great content matched to your curriculum needs and academic standards. How can we help you?
Educator Discounts
We've worked with public schools, private schools, charter schools, PTAs, libraries, non-profits, businesses, and teachers to provide awesome educational experiences for kids all over the country. We're also happy to support your local scout troop, fundraiser, or after-school program.
Our hands-on kits are the perfect addition to any learning program, whether you're a teacher with a classroom of 30 or a parent navigating homeschooling.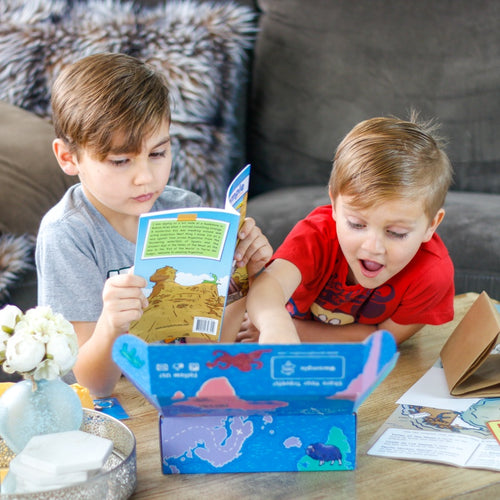 Teachers Love Us!
"I'm an elementary school teacher, and I love WompleBox! I'm impressed by how quickly my nieces have become engaged with the content. I like that they're not just learning about other cultures, but they're also having fun. Highly recommend!"

- Anand V.
Homeschool Orders
Looking to use WompleBox as part of your charter school or homeschooling lesson plan? It's easy as 1, 2, 3.
( 1 ) Check Your School
We're vendors for charter programs and education spending accounts across the country. If we're not registered with your program, use the button below to send us your school's vendor approval form.
( 2 ) Place An Order
Follow the instructions of your charter program or spending account to place an order. Email us at partners@womplestudios.com if you have questions!
( 3 ) Contact Us For Help
Questions about your order? Just reach out.
Questions and Answers
Does Womple Studios accept purchase orders?
Yes we do! Send us a note at partners@womplestudios.com to make sure we're a vendor for your school or program. Our payment terms are Net 30.
What is the shipping schedule on purchase orders?
Purchase orders can take a little while to process, so expect your first package to arrive within a couple weeks. Just email us at partners@womplestudios.com if you have any questions.
Do purchase orders automatically renew?
Purchase orders for subscriptions do NOT automatically renew. If you'd like to continue on with a subscription, please place a re-order after your subscription term is complete and send us an email at partners@womplestudios.com indicating that you would like to continue your subscription.
How do I check on my purchase order?