Ages 6 to 11
WompleBox
Explore the wonders of the world with our award-winning geography activity kit for kids!
Shop Now
Embark On A World Adventure
WompleBox is the award-winning, curiosity-boosting activity kit that transports kids to places all over the globe. Each month, your child will journey to a new country and discover the world through fun and educational content created by our expert storytellers and educators. They'll explore diverse cultures, develop empathy towards others, and build a global mindset. And with our hands-on STEAM activities, they'll unleash their creativity while having a blast.
Join us on an epic adventure and inspire your child to explore, learn, and grow!
STEP ONE: Choose A Length
Try it out with a one-time kit, get free shipping with a monthly subscription, or save up to $119 with a prepaid option.
STEP TWO: Your Box Is Delivered
Every month you'll receive an adventure and activity-filled kit about a new country. Pause or cancel anytime.
STEP THREE: Explore!
Happy kid = happy parent! WompleBox books and activities spark curiosity, creativity, and screen-free learning.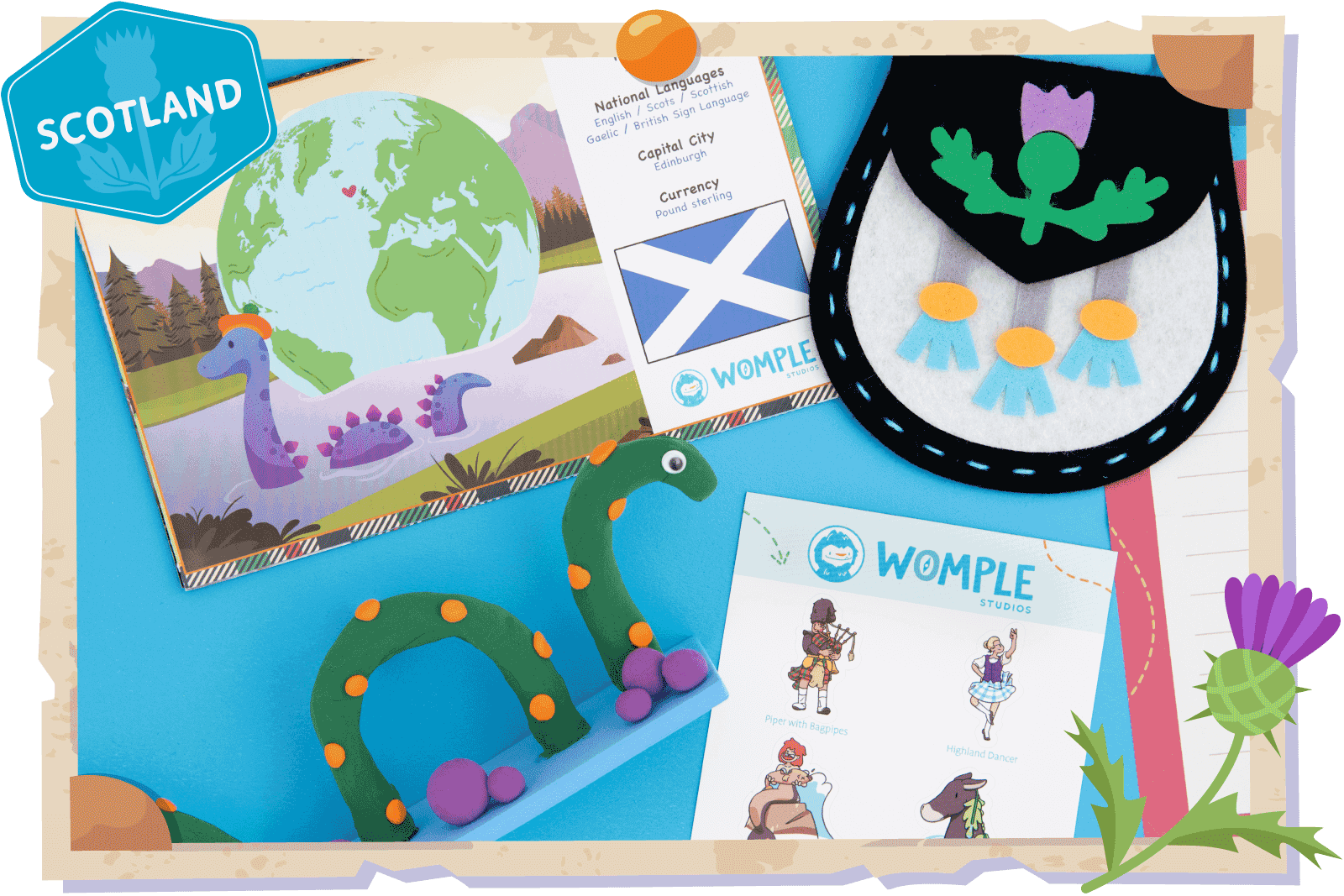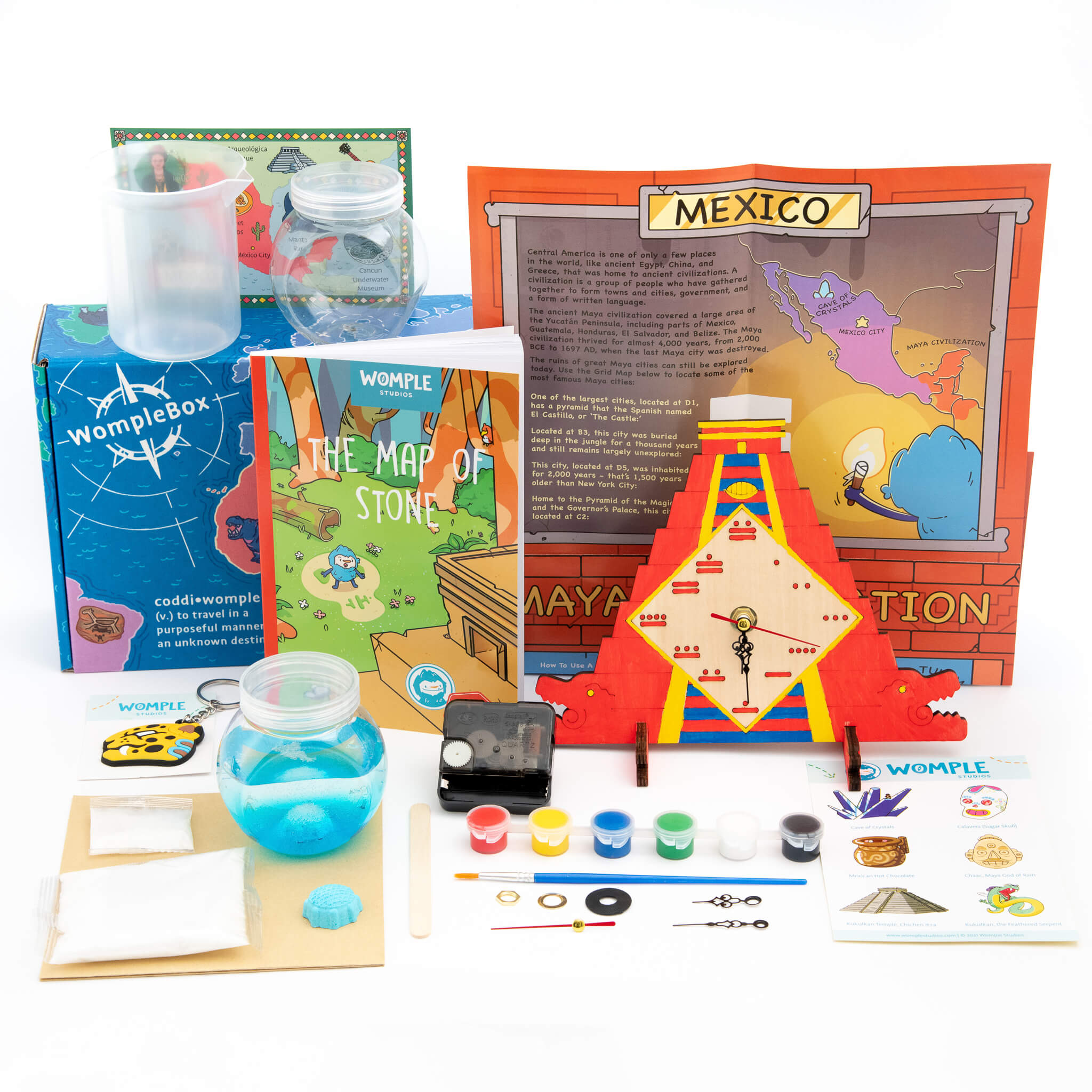 Every Month You Get:
Two STEAM Projects. Activities and crafts that get kids hands-on with learning.
Illustrated Book. A full-length adventure story for early readers with color photos and illustrations.
Map & Guide. Explore every new place with a fold-out map, guide, and fascinating facts.
Pen Pal Pack. Share knowledge with friends & family with stickers, postcard, and more.
Collectible Keychain. Remember every adventure with a custom keychain.
Two STEAM Projects
Every WompleBox comes with 2 screen-free and hands-on craft activities.
🛠 Kid-friendly instructions
🎨 All the necessary materials and components
🚀 Designed to help kids explore something new, like how crystals form in Mexico's famous crystal caves
Illustrated Adventure Book
Explore a new country with a thrilling, adventure-filled chapter book.
🌈 Full-color illustrations and photos
⛩ Child-friendly pronunciations and fun foreign language vocabulary
🌍 Exciting stories that include real-life places, animals, and things to make geography come alive
Map & Guide
Interactive maps with built-in activities and fascinating facts.
🗺 Poster-size, fold-out maps let kids visualize their journey
🙋🏽‍♀️ Facts about local culture, wildlife, natural wonders, and more
🥘 New kid-friendly recipes from every country you visit
Pen Pal Pack
Encourage kids to share their newfound knowledge with friends and family.
💌 The best way to learn is to teach, and WompleBox makes sharing knowledge easy
🦍 Each kit includes a pack of country-themed stickers, postcard, stationery, and envelope
Collectible Keychain
Remember every adventure with a collectible keychain.
🗿 Every WompleBox adventure is memorialized with a unique keychain so kids can carry what they've learned with them
Lights. Camera. ACTION! Something strange is happening on the set of a new Bollywood movie. Luckily, Detective Womple is on the case. From the heart of movie-making in Bollywood to the extraordinary City of Caves, explore India in this hands-on mystery adventure!





A trip to the world famous Louvre takes on a whole new dimension when the museum's art starts to come alive! Travel from the galleries of the Louvre to the banks of the river Seine and up the Eiffel Tower in this magical tour of Paris, France.





A Book In Every Box
Storytelling is at the heart of the WompleBox experience. Through our early-reader chapter books, we seamlessly blend fictional fun with real-world places, local cultures, historical events, native wildlife, and more. By immersing children in captivating adventures, they form more durable memories and a deeper understanding of the world.
Hands-On And Screen-Free
Each WompleBox contains two custom-crafted, hands-on STEAM projects and hours of activities to ignite kids' creativity and reinforce learning through play.
Meet Womple
Hi there! I'm Womple. Here at Womple Studios, I'm the CEO - Chief Exploration Officer. It's my job to travel the world and visit every country until I've seen them all. It's the best job in the… well, in the world!
Womple is your child's adventurous narrator and tour guide for each new country they visit with WompleBox.
Choose Your Subscription Length
Free US shipping. Save $4.95 each month with free shipping on all subscriptions.
Easily change your plan. Pause or cancel any time.
Frequently Asked Questions
WompleBox leads your child through the wonders of a new country each month. With the subscription, you won't always know which country you'll receive each month and we've discovered it is much more exciting that way!
Womple brings new excitement to some well-trodden destinations (like Australia and France) and introduces kids to places that are off the beaten path (like Rapa Nui and the Philippines). No matter the destination, your child and you will learn something new. We guarantee it.
If you're planning a homeschool curriculum and need some advance notice to plan ahead, just reach out at help@womplestudios.com. And if you're only interested in a particular country, be sure to check to see what specific WompleBox kits we have available for individual sale.
So far, Womple has had his passport stamped in: Argentina, Australia, Brazil, Canada, China, Ethiopia, France, Greece, Iceland, India, Indonesia, Japan, Mexico, Mongolia, Morocco, New Zealand, Nicaragua, the Philippines, Rapa Nui, Russia, South Africa, Sri Lanka, Tanzania and Scotland.
Where do you think he should travel next?
Subscriptions start as low as $24.99 per month and shipping is FREE within the U.S.
WompleBox is perfect for kids ages 6 to 11. Younger kids will love reading and crafting with the help of an adult, while older kids will be able to explore and discover all on their own.
Every WompleBox includes two STEAM projects and plenty of activities that can be shared between two kids. So, if you have two kids, feel free to just get one box. If you have three kids, we would recommend at least two boxes so that everyone gets to fully participate.
Each WompleBox leads your child on an adventure to a unique location around the world, encouraging them to explore, learn and create.
Through engaging storytelling and hands-on activities, your child will learn culture, geography, science, history, cuisine (and recipes for some cooking!), nature, art and more! Whether it's joining a tribe of reindeer herders in Mongolia or hiking the Great Bear Rainforest in Canada, they'll have experiences that leave a lasting impression. Each box contains two STEAM activities that encourages them to play with their hands, get creative, and reinforces what they've learned on their latest adventure. They'll build interpersonal, emotional, and coordination skills.
We know that children never stop learning… and we're here to provide the fuel for their curiosity!
WompleBox is crafted by our world-class team of veteran educators, practiced storytellers, and parents. Our specialty is transporting kids to other places across the world. We don't do the same old facts your kids will forget in 5 minutes. We give them experiences that they will remember for a lifetime.
Our Awards