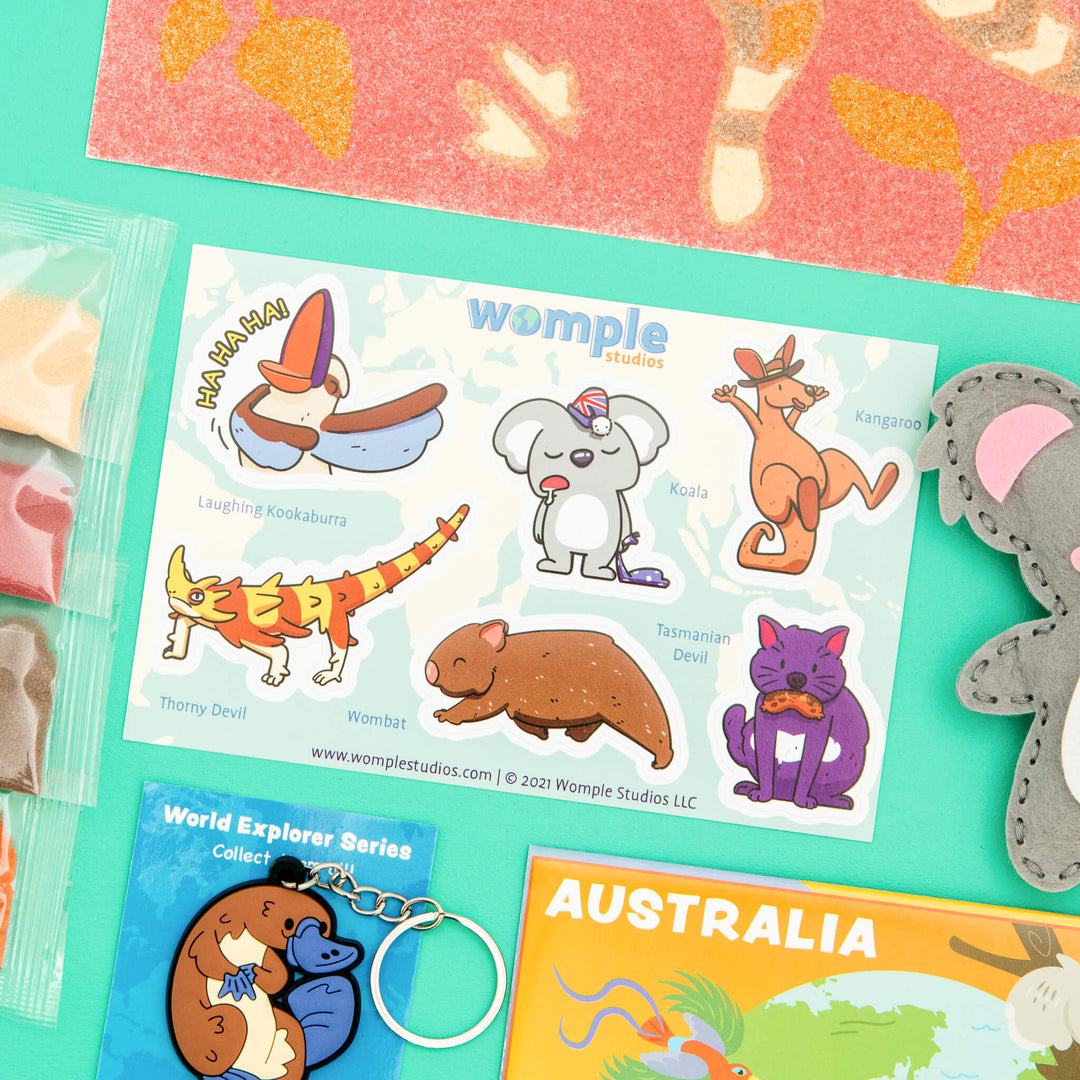 WompleBox: Australia
Embark on an unforgettable journey with Womple as he ventures Down Under in our Australia-themed WompleBox! Perfect for curious minds aged 6-11, this immersive activity kit is designed to spark creativity, cultivate global awareness, and provide hours of screen-free educational fun.
Uncover the Mystery of Australia: Join Womple as he navigates the vast landscapes of the Land Down Under. "Trouble Down Under," our full-length, illustrated adventure book, takes young explorers on a thrilling ride from the swamps of Victoria to the majestic 'island mountain' of Uluru. Real facts seamlessly intertwine with the narrative, offering a unique blend of entertainment and education:
Nothing is exactly what it seems on Womple's trip Down Under. Everything started off normal enough as Womple goes hiking in the Outback with his friend Waru and Waru's koala companion, Cobber. But, things get a little hairy when a hairy monster shows up to ruin everyone's plans. From the swamps of Victoria to the island mountain of Uluru… welcome to Australia!
Hands-On STEM Projects: Fuel your child's curiosity with two STEM project activities crafted by our expert team. From building your own koala stuffie to creating mesmerizing 'X-Ray'-style sand art, each project enhances the learning experience by bringing the Australian adventure to life.
Interactive Map and Country Guide: Unfold the secrets of Australia with our interactive map and country guide. Packed with fascinating facts about Australia's population, location, and language, this fold-out map provides a tangible connection to the country. Discover a kid-friendly recipe, learn about unique aspects of the Australian continent, and immerse yourself in the rich cultural tapestry.
Pen Pal Pack: Share the joy of discovery with our Australia-themed stickers! Encourage your little explorer to pen down their newfound knowledge and share it with friends and family in a creative and fun way.
Collectible Keepsake: Commemorate the adventure with a one-of-a-kind Platypus keychain. Whether it's the cute animal companions or recognizable sights from the story, this collectible keychain serves as a lasting reminder of the incredible journey through Australia.
Ignite curiosity, inspire creativity, and foster a love for learning with WompleBox: Australia. Order now and let the exploration begin!
Box dimensions:
9 inches x 7 inches x 3 inches

Kit includes:
- 'Trouble Down Under,' full-length color-illustrated adventure book about Australia
- Build your own koala stuffie
- Create a piece of 'X-Ray'-style sand art
- Fold-out and interactive activity map of Australia
- Australia-themed stickers
- Platypus keychain collectible
Free standard shipping on orders $55 or more and all subscriptions. Surcharge applies for Alaska & U.S. islands. Allow 1-2 business days for order processing, 2-3 days for Expedited Shipping, and 3-8 days for Standard Shipping.