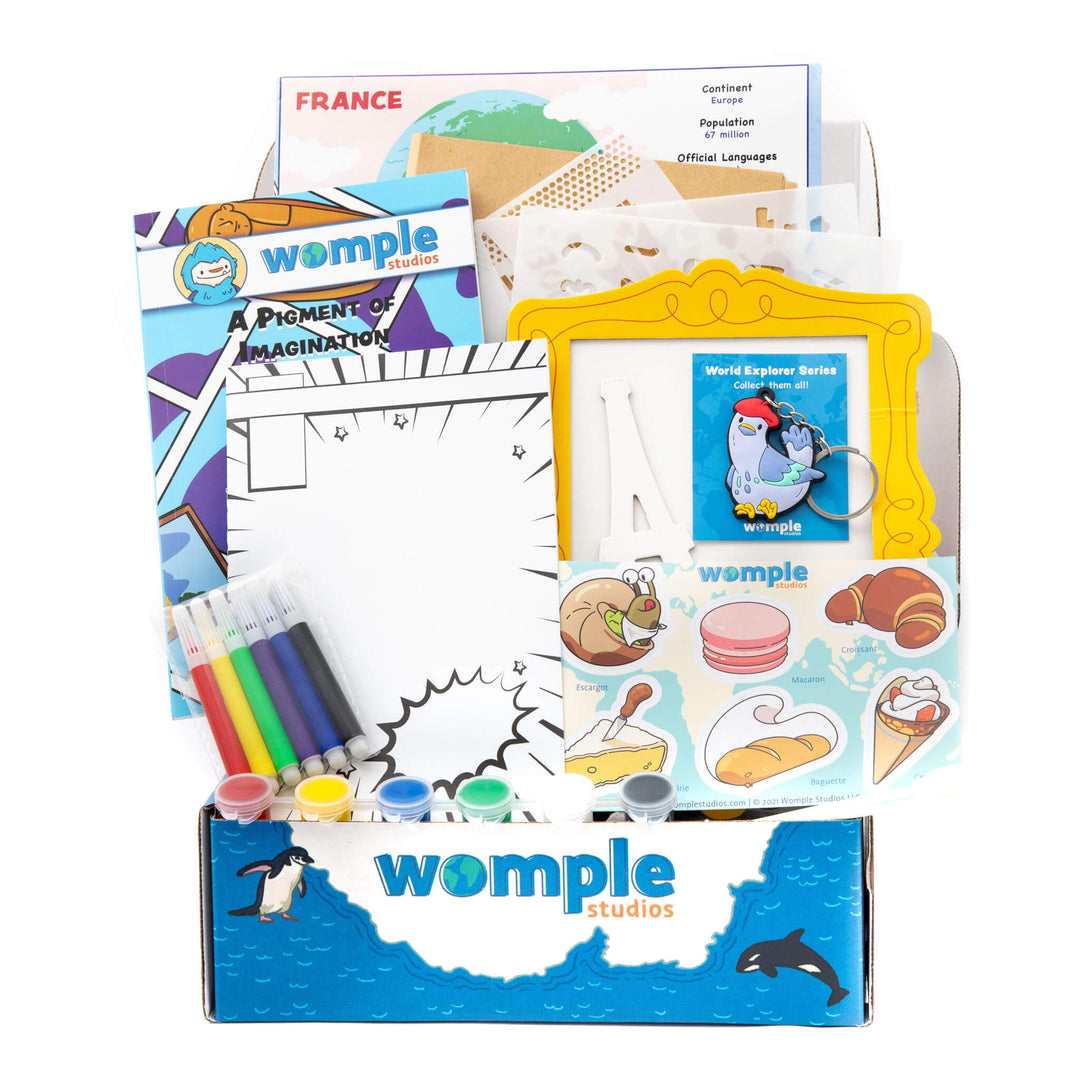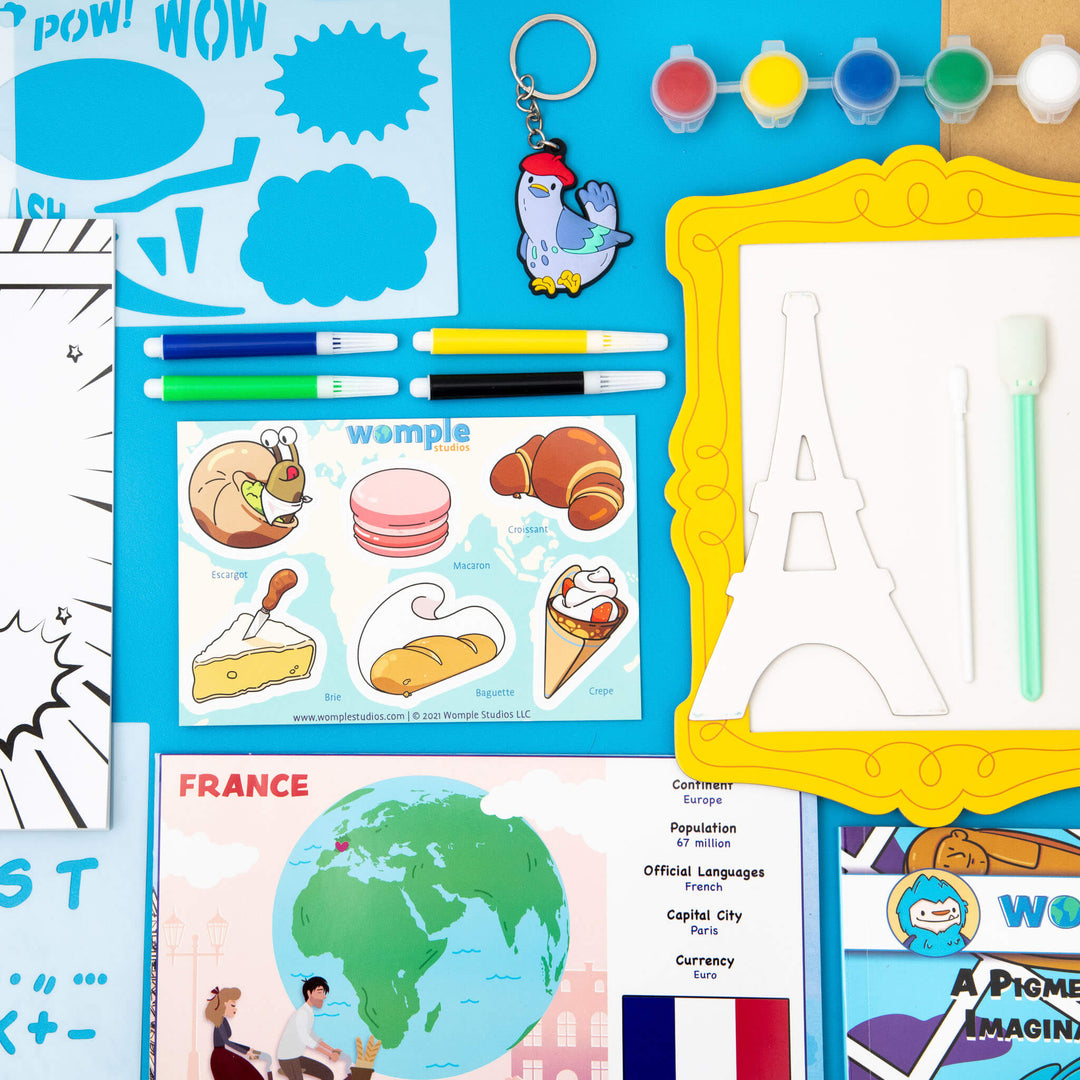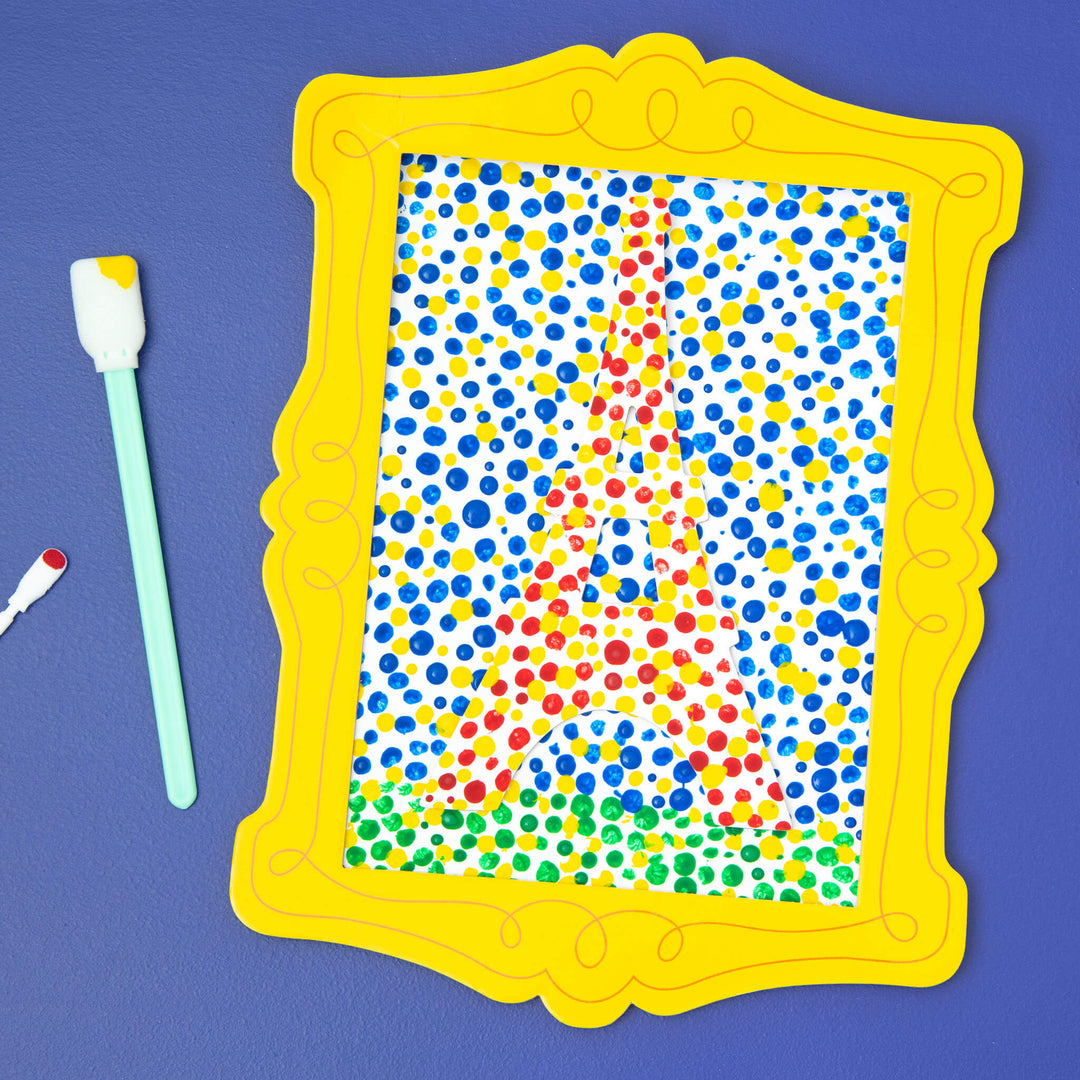 WompleBox: France
🖼 An Art Adventure in Paris!
🎨 2 hands-on craft projects
Bonjour! Join Womple on an artistic escapade through the iconic Louvre museum, the streets of Paris, and the famous Eiffel tower!
Unveil the Wonders of the Louvre: In "A Pigment of Imagination," an illustrated adventure book designed for young explorers aged 6-11, Womple guides them through the Louvre's grand galleries and more:
Bonjour! My trip to the famous Louvre museum started off great. I got to see an exhibit on one of my favorite types of art: comics! Then, my trip got even BETTER! Before I knew what was happening, I was thrown into an adventure with some very unlikely pals. From the galleries of the Louvre, to the banks of the river Seine, and all the way to the top of the Eiffel Tower... welcome to Paris, France!
Hands-On Artistic Endeavors: Young adventurers can immerse themselves in the vibrant artistic spirit of Paris with engaging DIY activities. They can create their own comic strip inspired by the Louvre's unique exhibits, letting their creativity flow like the Seine. Learning the famous "pointillism" technique while painting a framed Eiffel Tower masterpiece brings the magic of Parisian landmarks to life.
Discover Paris with an Interactive Map: Unfold the beauty of Paris with Womple's interactive map, guiding young explorers through the city's iconic landmarks and cultural treasures. They can follow along on Womple's adventure and explore the banks of the Seine, wander through the Louvre's galleries, and ascend to the heights of the Eiffel Tower—all from the comfort of their own space.
Parisian-themed Stickers: Capture the essence of Paris with the themed sticker set. From classic French pastries to iconic landmarks, these stickers add a touch of Parisian charm to notebooks, crafts, and more.
Collectible Keepsake: Commemorate the artistic journey with an adorable pigeon collectible keychain. You'll want to remember this French pigeon, a key character in Womple's Parisian adventure. 
Ignite curiosity, inspire creativity, and immerse young explorers in the artistic marvels of Paris with WompleBox: France. Order now and let the magic of Parisian art transport them to the enchanting streets of Paris!
Box dimensions:
- 9 inches x 7 inches x 3 inches

Activity kit includes:
- "A Pigment of Imagination" illustrated adventure book in Paris, France
- Practice pointillism with a framed Eiffel tower painting
- Create your own comic book with stencils & more
- Fold-out activity map of Paris, France and country guide
- Sticker set with fun France-themed stickers
- Collectible pigeon keychain
Free standard shipping on orders $55 or more and all subscriptions. Surcharge applies for Alaska & U.S. islands. Allow 1-2 business days for order processing, 2-3 days for Expedited Shipping, and 3-8 days for Standard Shipping.