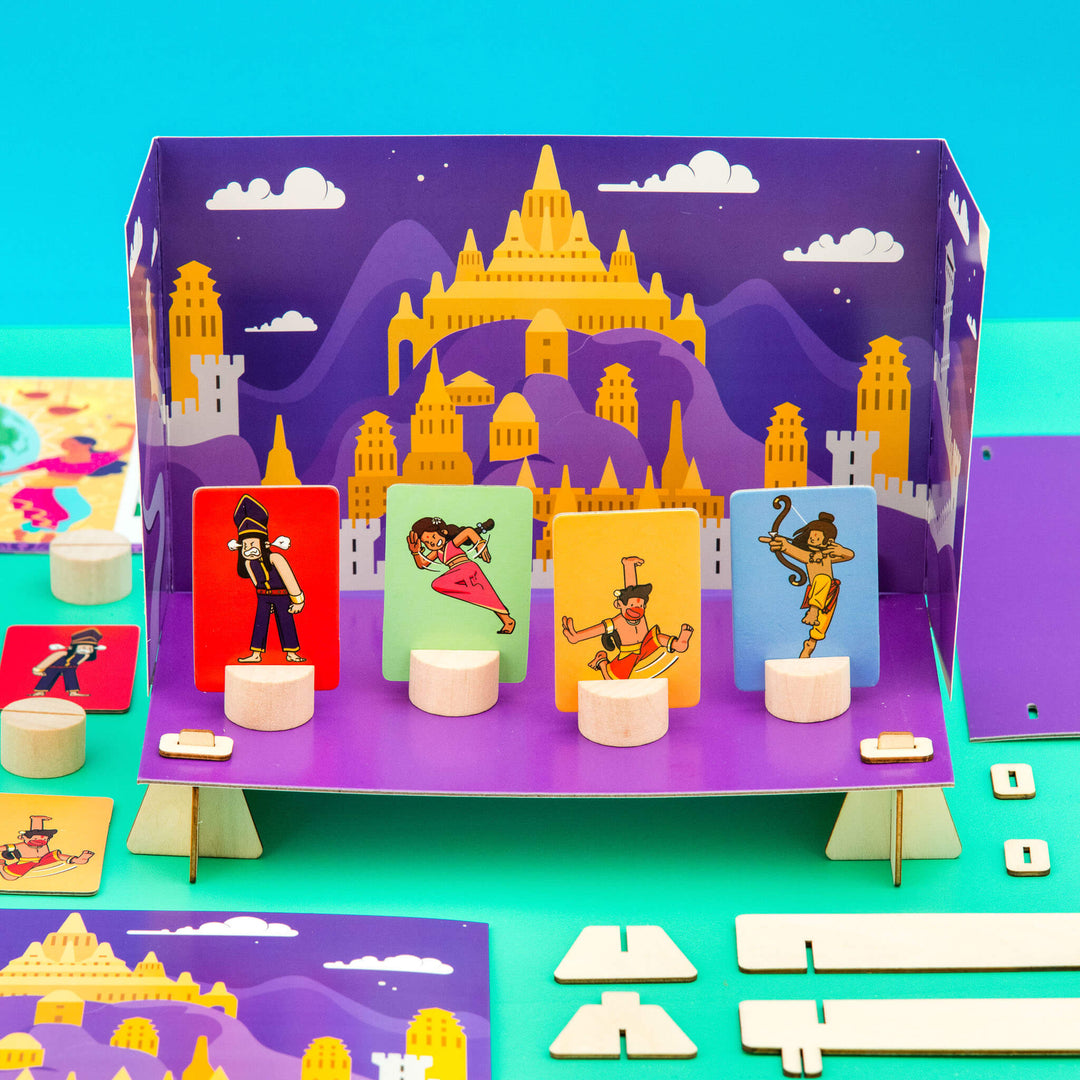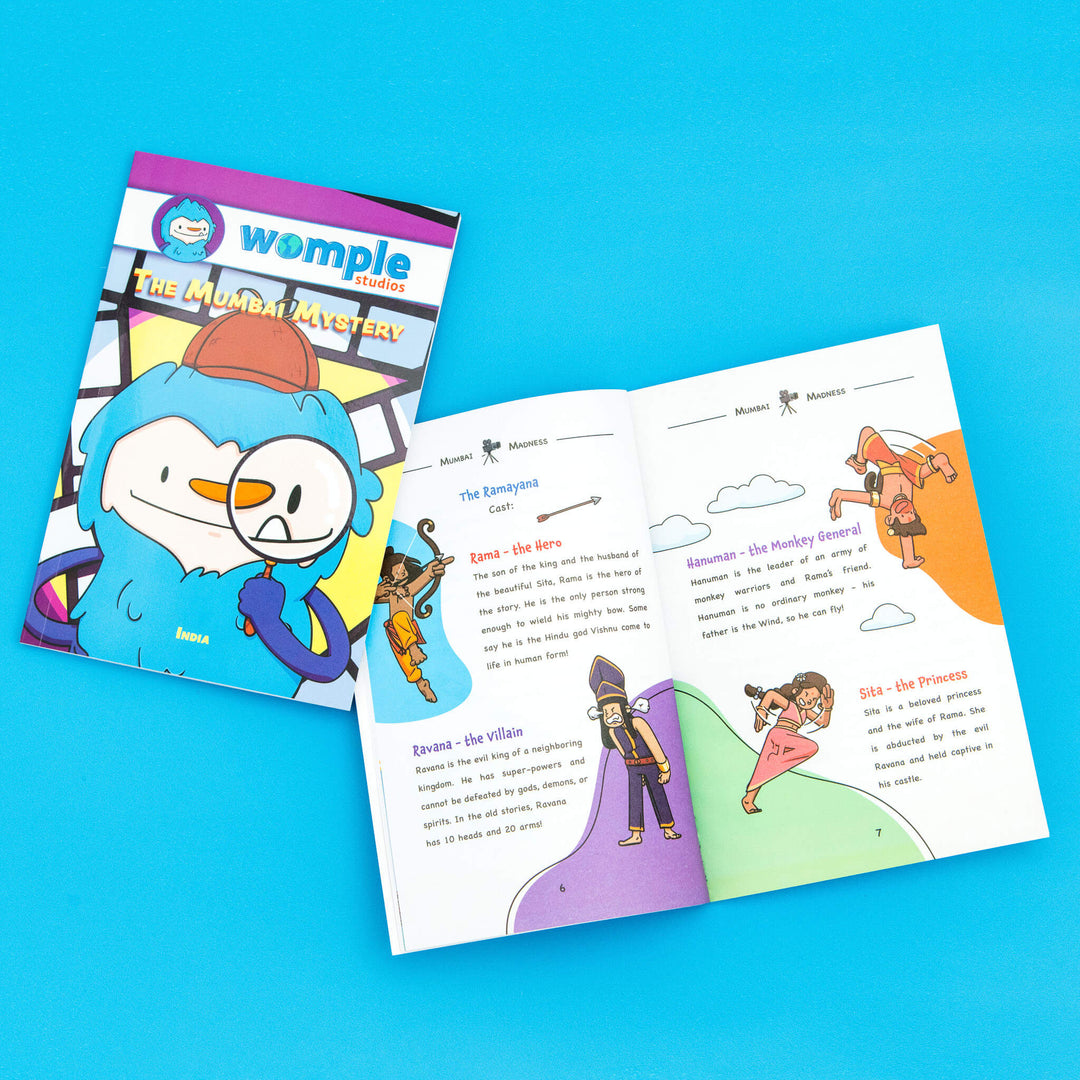 WompleBox: India
🎥 Solve a movie-set mystery in Bollywood!
🎨 2 hands-on craft projects
Join Womple in "The Mumbai Mystery," an exciting tale that unfolds in the heart of Bollywood in Mumbai, India. Bursting with anticipation to witness a movie being filmed, Womple discovers something peculiar on the set—movie props are mysteriously disappearing! Fortunately, Detective Womple takes charge, leading young explorers aged 6-11 on a thrilling (and educational) investigation.
Unveil The Mumbai Mystery: "The Mumbai Mystery" is an illustrated adventure that combines the excitement of Bollywood with the magic of Indian storytelling as the ancient story of Diwali unfolds. Young adventurers will follow Detective Womple as he unravels the mystery surrounding the disappearing movie props, and learns the origins of one of the world's biggest holidays, offering a delightful blend of suspense and cultural exploration:
Lights. Camera. Action! I was so excited to watch a movie being filmed. But, something strange was happening on this particular movie set: the movie props kept disappearing! Lucky for everyone, Detective Womple was on the case. From the heart of movie-making in Bollywood, to the world's largest outdoor laundromat, to the mysterious City of Caves... Welcome to India!
Hands-On Cultural Activities: Immerse yourself in Indian traditions with engaging DIY activities. Craft and decorate a Diya for Diwali, celebrating the Festival of Lights with air-dry clay. Put together a movie set with characters from the Diwali story, allowing young explorers to act out their own play inspired by The Mumbai Mystery.
Explore Mumbai with a Fold-Out Map: Unfold the beauty of Mumbai with our detailed map, guiding young explorers through the bustling streets and iconic landmarks. Discover the vibrant colors of Bollywood, explore the world's largest outdoor laundromat, and uncover the City of Caves.
Indian-themed Stickers: Capture the excitement of Bollywood and India with our themed sticker set. Featuring iconic symbols and scenes from the story, these stickers add a touch of Indian flair to notebooks, crafts, and more.
Collectible Keepsake: Commemorate the Indian adventure with a unique auto-rickshaw keychain. Whether it's a reminder of the bustling streets of Mumbai or the thrilling investigation with Detective Womple, this keychain serves as a cherished keepsake.
Ignite curiosity, inspire creativity, and immerse young explorers in the cultural marvels of India with WompleBox: India. Order now and let the magic of Bollywood transport them to the enchanting streets of Mumbai!
Box dimensions:
- 9 inches x 7 inches x 3 inches

Activity kit includes:
- "The Mumbai Mystery", an illustrated whodunnit mystery adventure set in Bollywood in Mumbai, India
- DIY diya lantern crafting kit
- Build a movie set complete with characters from the Diwali story
- Fold-out map of Mumbai and country guide to India
- Sticker set of India-themed stickers
- Collectible auto-rickshaw keychain
Free standard shipping on orders $55 or more and all subscriptions. Surcharge applies for Alaska & U.S. islands. Allow 1-2 business days for order processing, 2-3 days for Expedited Shipping, and 3-8 days for Standard Shipping.